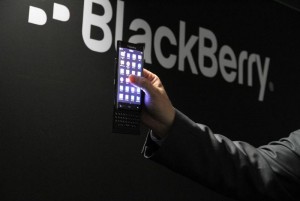 Rumors abound that the beleaguered Canadian company BlackBerry is considering introducing Android-based smartphones to its lineup of products. First off, let me say I'm a little surprised that BlackBerry is still around at all! I figured they'd be long gone by now. It is a testament to how strong they were before, their entrenchment in the enterprise market, and their portfolio of technology assets that they've been able to stay in business to this point. Once the king of smartphones, BlackBerry's world was turned upside down first by Apple's iPhone and the subsequent plethora of Android-based devices. They are hardly a blip anymore in the mainstream market, and their grip on corporate accounts has been slowly but surely slipping over time. Their BlackBerry 10 (BB10) operating system was their last big salvo in the smartphone war and so far it has been largely ignored by the market at large. So now it seems that perhaps BlackBerry will turn to producing Android-based smartphones to capture any last chance at relevance.
Some industry experts think this is a good idea. To some degree, it could make some sense. BlackBerry 10 already includes an Android compatibility layer so that some Android apps will run on BlackBerry phones. This enlarges the potential library of apps that BlackBerry phones can work with. Certainly apps are critically important to a smartphone platform's acceptance in the marketplace. So if the BB10 platform is a non-starter, why not go with an Android-based smartphone and go full-bore into that ecosystem?
Perhaps this is BlackBerry's only option at this point. While publicly, BlackBerry is sticking with their BB10 operating system (which makes sense as to not knife the baby at this point), if they know that BB10 is ultimately doomed, their only chance at smartphone relevance is the "if you can't beat 'em, join 'em" strategy. Since they can't make Apple iOS devices, then Android is their only choice.
While maybe this is their only option, it doesn't mean this is actually a good strategy for profitability. Joining the ranks of the multitude of Android smartphone manufacturers will simply dilute any differentiation the Blackberry brand had. Perhaps 10 years ago the BlackBerry brand would have stood out to the marketplace. However, in 2015, Android is a quagmire of mediocrity and the Blackberry name has not proven itself strong enough to attract customers since Apple introduced the iPhone in 2007, ushering in the New World of Technology. By becoming yet another Android smartphone manufacturer, BlackBerry will simply become another face in the crowd.
BlackBerry's only chance is to survive in the Android marketplace is to become the flagship Android brand. With Samsung's sudden decline in the overall smartphone market since Apple introduced their iPhone 6, there is an opening available for someone to swoop in and create a name for themselves. However, the Android marketplace is not a one that values differentiation. Android owners are hardly loyal to their devices, as has been shown with the defection rate from Samsung now that Apple has large-screen devices. I can not see a reasonable scenario where BlackBerry enters the Android market and is able to successfully compete with the other Android handset makers, not to mention Apple's iPhone. If anything, the BlackBerry name is a symbol of the Old World of Technology and most consumers aren't all that hip to buying a brand name from the Jurassic period of smartphones. If anyplace, the BlackBerry name may have some panache in the corporate world, but the New World of Technology has taught us that the consumer market sets the trends now. Without the consumer market, a mobile device like a smartphone has little chance of succeeding.
The bottom line is that whatever chatter you may hear about BlackBerry in the near future, don't put too much stock in any hopeful news you may hear. Unless and until BlackBerry shows itself a resurgent force in the smartphone market, you are simply setting yourself up for another Android flash in the pan, and will likely be stuck with a device that has a dubious future, including the possible lack of timely (if any) updates for security or feature improvements.