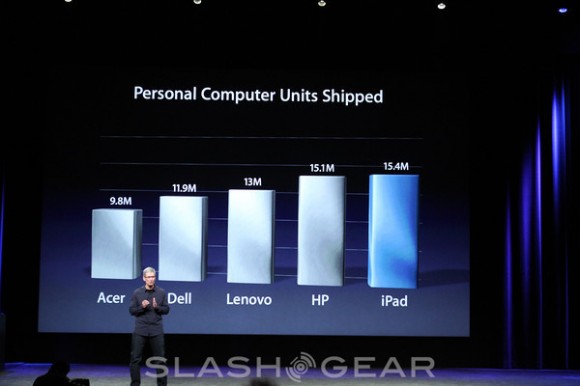 During the keynote address introducing the New iPad, Apple announced that they sold 15.4 million iPads in the fourth quarter of 2011. Certainly, that's a lot of iPads, but the more significant revelation is that Apple sold more iPads than HP sold PCs in that quarter. Compared to HP's 15.1 million PCs, Apple's 15.4 iPads meant that Apple outsold the world's largest PC vendor during the holiday 2011 season. As more experts begin to acknowledge that the iPad is for all practical purposes a "PC", this is a very significant development.
Of course, HP responded to Apple's claim by saying, predictably, that traditional PCs aren't dead and that a lot of people and companies still rely on them. Way to be stuck in the past, HP. But then they also stated that "… if you're sending Junior off to college, the first computing product needed for homework is a PC." Really? What exactly do you mean by that HP? Are college students actually required to purchase PCs? Or have they been increasingly choosing Apple's Macintosh over the last 5 – 10 years? And could it just be possible that students are discovering that they can actually do most of their homework on an iPad? This isn't even considering that in a year or two, students could be reading all of their textbooks from their iPads.
But seriously, what else would you expect to hear from a company that killed their tablet product and has nothing to sell but traditional PCs? HP's former CEO specifically said that the "tablet effect is real". Now there are some hard numbers to back that up. The Old World of Technology is ending right before our very eyes. If you haven't already noticed, perhaps this is your wake-up call?