State of the Tech Guest post by Lucy Price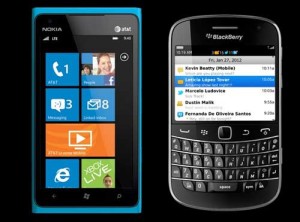 Operating system giant Microsoft may have moved ahead of BlackBerry (BB) with their Windows Phone (WP) devices in terms of market share but we can't set aside the reality that both platforms are struggling in third and fourth place. Android and Apple now command the Smartphone market once controlled by BlackBerry and Microsoft. Can these two once dominant players survive? What are the main reasons for their fall?
The Current Market Situation
According to International Data Corporation (IDC)'s latest statistics:
Android has almost 73% global market share with 187 million handsets sold in Q2 2013;
Apple's iOS has 13.2% market share with 31.2 million handsets sold;
Windows Phone has 3.7% share with 8.7 million units shipped
and BlackBerry OS, in spite of releasing their new BB10 operating system earlier this year, dropped to fourth place with only 2.9% share or 6.8 million units sold last quarter.
However, the smartphone market is tricky to get a handle on due to several factors:
Global marketshare is very different from United States marketshare. (Android 52%, iOS 40%, BlackBerry 3%, Windows 2%) The influence of the United States market on the rest of the world is significant and can not be excluded from global marketshare analysis.
Market share can be calculated by operating system or manufacturer. Apple is the only manufacturer of the iPhone and therefore profits from all iPhones sold, whereas there are several manufacturers of Android, Windows, and BlackBerry phones. In the Android market, only Samsung can be considered successful by measure of profitability. Profitability is ultimately why companies manufacture products and unprofitable manufacturers will not likely have longevity in the market. This could skew market share numbers in the near future.
Market share can be calculated by sales into the channel or sales to end-users. Not all manufacturers calculate sales in the same way.
In regards to platform viability, he smartphone market is tied to the tablet market. Apple's iPad holds a stronger position in the tablet market, and Windows and BlackBerry's shares are minuscule.
The smartphone market is still growing, with all major manufacturers showing growth, even as marketshare fluctuates.
Market share statistics are generally quoted from the most recent quarter, ignoring the entire installed base of devices currently in use.
Market share is only one measure of a platform's viability. Other statistics show that iOS is actually used by more people and developers are making more money on the iOS platform. This final measurement is very important as will be shown later in this article.
Not Necessarily Inferior Hardware
If we observe the smartphones running the WP and BB platforms, we'll notice that their specifications are at least on par with the latest innovations in mobile technology. For example the Nokia Lumia 1020 packs the most advanced camera for a mobile device so far. It boasts a 41-megapixel capacity which is far more megapixels than most other smartphones, such as the iPhone's 8-megapixel camera.
A Lack of Applications
One major factor behind the fall of the the WP and BB platforms are their lack of applications. The WP marketplace only has 100,000 available apps according to Appcelerator's 2013 Q2 developer survey. And many of which are mere copycats and third-grade clones of the other apps that are available in the leading platforms. For example, in lieu of the Instagram photo sharing app, they have Instacam, which offers a similar experience but with limited features and functions. Even the YouTube application is just a simple app linking the user to the web version through the device's browser.
BlackBerry claims that their new BB 10 OS has 100,000 applications based on CRN's latest report. But we have to take into account that 20% of that number are actually Android apps that were ported to the system with the use of an emulation engine. Moreover, these apps are actually optimized for older versions of Android, meaning, they are now outdated based on current standards and specifications.
Microsoft plus Nokia equals "Mokia"
Users need apps to maximize their smartphones' capabilities and, so far, mobile manufacturers like Nokia are aware of this reality. Recently, the company's VP for app development aired his disappointment towards Microsoft for the decline of Nokia sales. According to Bryan Biniak, "people rely on applications for their day-to-day life and if you don't have something which I use in my day-to-day life I'm not going to switch [operating systems] because I don't want to compromise the way I live my life just to switch to a phone." Biniak also stressed that, "we are releasing new devices frequently and for every new device, if there is an app that somebody cares about that's not there that's a missed opportunity of a sale."
His statements would prove prescient as exactly a week later, Nokia agreed to a $7.2B acquisition of its devices and services unit by Microsoft. Nokia is the largest manufacturer of Windows Phones through the Lumia series but sales were down 24% in spite of its record sales. Once the deal is finalized and the companies operations merged, all future smartphones will become Microsoft-branded. Building on their previous history, an acquisition like this could mean greater synergy between the two manufacturers and result in a more focused and competitive end product. But given Microsoft's failure with their self-branded Surface tablets, Microsoft has yet to prove they can compete in the mobile device market.
Microsoft Isn't After the Top Spot
With the emergence of Mokia, BB's potential as a relevant competitor in smartphone market share becomes even bleaker. Peter Garnry, equity strategist at Saxo Bank, suggested that the company focus on its security and data network capabilities instead of trying to compete directly against Google, Apple, and Windows with a fourth operating system.
In an interview with Microsoft Business manager Larry Liebman, they consider their current position as a "victory." Liebman added, "We think we're solidly the third ecosystem right now.  That's a huge announcement in some respects.  [WP] growing faster than anyone else right now." While it seems a stretch to consider 3rd place a victory over the falling BlackBerry platform, Microsoft has the luxury of a significant cashflow from other markets. Windows on the PC and Microsoft Office keep Microsoft in a strong cash position for now, so they have time to develop their market share.
Creating a strong following of app developers for either Microsoft of BlackBerry is now a chicken-and-egg problem. Without a strong market share (or other platform viability measurements) developers have little incentive to create for those platforms. But without a strong app marketplace, those platforms are not likely to grow stronger. BlackBerry almost certainly does not have the cash reserves to reverse their fall. However, Microsoft with their recent purchase of Nokia and a strong cash position may just be able to weather the storm and become a strong third-place player.
About The Author
Lucy Price is a specialist in web design, branding, pop music and the latest gadgets. Her love of classical music takes up most of his spare time and she also maintains a passion for action movies. You can follow her on Twitter @lucyyyprice